Thankfully the girls are over their fevers now though Vivi is still battling a runny nose. Shiloh seems completely over the cold already.
We took the girls out to breakfast yesterday where they had
giant
chocolate chip pancakes. The girls ate much more than I expected of the pancakes. Shiloh would have probably finished hers if we stayed there long enough. She certainly believes in leisurely meals!
Of course, it didn't help that there was an annoying fly buzzing around, which she was afraid of...
or the fact that she was in a wobbly booster seat that she almost fell out of a couple times as she dove for me when the fly came near her...
or that she likes to notice shapes and letters in her food...then take another little bite so she can make another shape or letter.
Mealtime was so boring (although much faster) before Shiloh! ;-)
Whenever she calls me now she keeps saying "I need
my
Mom! I need
my
Mom to help me!
My Mom
are you coming?" I guess since there are just soo many Moms just wandering around here, she wants to make sure the right one comes? lol
Vivian pauses after each syllable when she talks, like she's trying hard to say each part correctly. "New pan ee" ( new panties) "More cah ker" (more crackers) "om nee ice" (lemonade with ice).
Lemonade is a word she keeps changing how she pronounces, she used to call it "mimi".
I think it's most funny when she asks to watch her "Elmo 2" dvd.
She says "Momo Two!" and holds out her fist at you. She's trying to hold up two fingers to emphasize that it is "Elmo
TWO
" but she can't get the fingers to stay up yet. lol
Some pictures of the bounty from our garden...
A couple zucchini (on a ruler for measurement. I ended up picking them as Shiloh didn't even want to touch them. Vivi helped me carry them in though. :)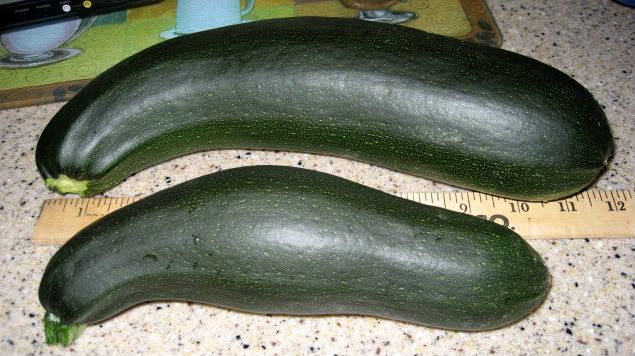 Tomato babies...
Our messy garden, the pumpkin plants are flipped a bit because we were pulling their viney tentacles off of the tomato plants and deciding how cut/train them back.