...because this post is all about food!
This week...
I enjoyed this cake that my DH ordered for our 7th Anniversary from Chinatown.
The girls weren't too crazy about it. There is melon on the cake and in the filling, which is a big turn-off to Shiloh...even when I gave her a piece without melon on it she didn't eat much.
The Chinese chocolate cake is not the type of chocolate cake which I am familiar with. It's hard to describe but more like carob I guess.
I bought these beautiful grapes at the grocery store. I bought over 4lbs!
2lbs for snacking and 2lbs to halve and freeze so that I can make grape pie later on.
It takes a long time to wash and halve two pounds of grapes. But I like grape pie so I think it's worth the effort....once in awhile. ;-)
Pretty soon I started hearing "mmm gape? mmm gape" (more grape) from Miss Vivian once she noticed what I was doing. I had to start cutting faster so that more grapes went into the bag than her belly!
This morning I asked DH to pull out this crockpot.
My first time using it...despite the fact that we received it at our wedding....seven years ago. It's nice, right? It works too! :)
I knew I would use it
some day
. Some day the family would eat enough that we'd need the
big
crockpot, or else we'd have a freezer big enough to hold as much food as this crockpot can make.
Ta da! That day is today!
I like how it matches my microwave too...hmm, I might have to find a place on the counter for it...
I also have zucchini seeds drying, preparing for next years garden. :)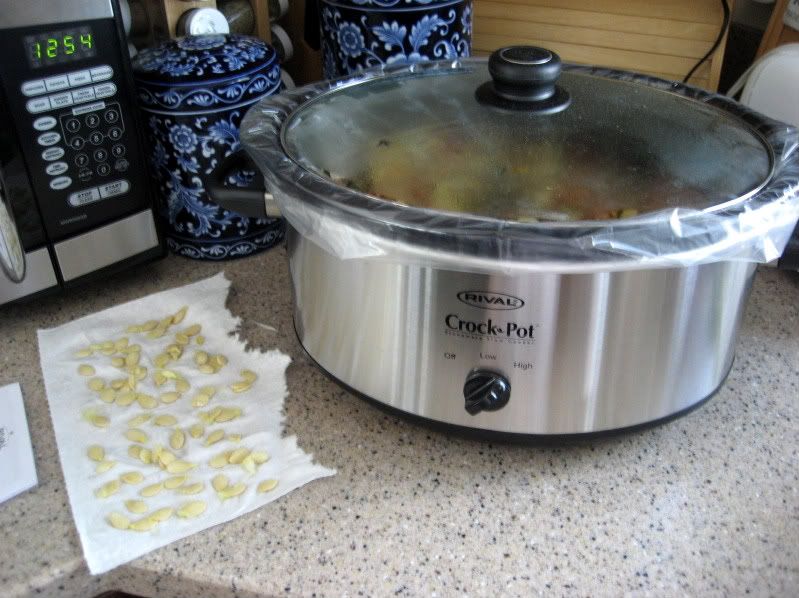 The chili/stew...
A little of this, a little of that....a dash of this and splash of that.
I'm using the last of my crockpot liners today, so I have to go shopping for some more. They make the clean-up so-so-so much nicer and easier.
I've also been working on (knitting) Vivian's blanket, but I think I put enough pictures up for today! ;-) It is about 75% completed now and right on track to be ready for her when the weather cools down.
Soaking up the girls' little ways of saying things, I love it!
Shiloh told me the other day "Mom! Mom! I in-gingered my foot! I in-gingered it!" (injured)
She had a blanket on and told me she was a "goose". I asked her what sound a goose made she started howling "Ooooooo" like a ghost.
"i a scary goose, Mama!" Ah, I see.
I asked the girls if they wanted some chicken wings that DH had made. Shiloh said "Mama, I don't like chicken covered in oreos. i don't like chicken in oreos."
"what?"
"oreos makes my hands geesy, i don't like it."
"Ohhhh, you don't like oil? you don't like oily chicken?"
"yes! i don't like it!"