We went shopping at Wal-Mart yesterday. It was the same Wal-Mart that wouldn't accept Vivian's crib when it was
recalled
so I guess I shouldn't have been surprised at this newest error!
DH let Vivian pick out this dinosaur from the dollar bin in the toy department,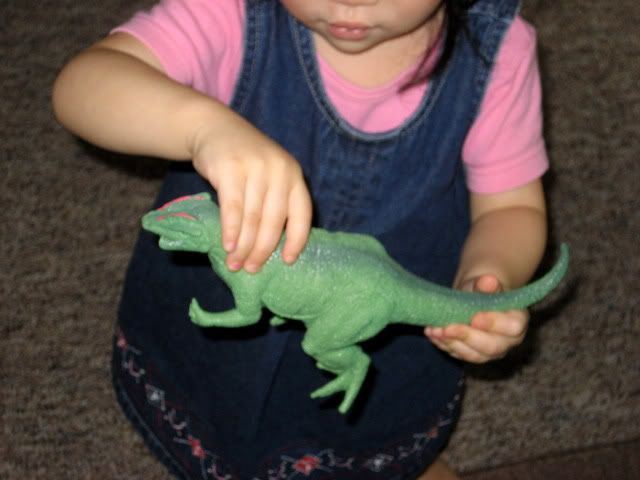 except that instead of costing $1, it rang up $36!
ahem!
They said they'd been having the problem all week but thought it was fixed...hmm.
Today didn't start out so great. DH started the coffee maker this morning, but forgot one crucial detail.
To put the pot in the maker!
But I've been there and done that before myself...
I had just finished cleaning up that mess, when Vivi spilled her milk down her chair, on the wall, on the carpet...and in the heating vent.
Shiloh said "Wow, Vivi spilled milk just like my dinosaur did the other day!" ha!
So we had to remove the vent cover and wash that, and I moved a bench over the hole in our dining room floor while the vent dried.
I had a few errands to run this morning too. I was starting to become concerned that all the stores are clearing out their sandals and already switching over to sneakers and winter boots in their shoe departments..
So we went to "Payless" this morning in hopes that I could find something there. I saw some pairs that I really liked at their online site, but I don't like the idea of buying shoes without trying them on first.
Ta da! I found sandals today. yay!
Payless is having their BOGO 1/2 price sale so I also looked for some other shoes for myself but didn't see anything I needed. I was looking at shoes for the girls and happened to notice that Vivian's size 5 sandals that she was wearing that very moment were actually too small.
So I found these super-cute sandals that I really, really, wish they made in my size.
I love them!
They were on sale too, and with the half-price deal they came to less than $5!
Pretty awesome!
DH picked the first of our pumpkins. They are pretty small, but orange already. I'm not sure if they count as a pie pumpkin or just decorative?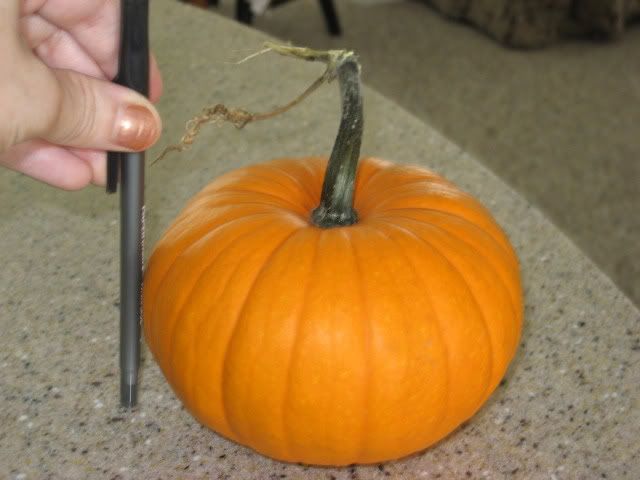 At least it's much, much better than my attempt at pumpkin-growing last year!
Remember my troll
pumpkin
? Eek, it's still scary!